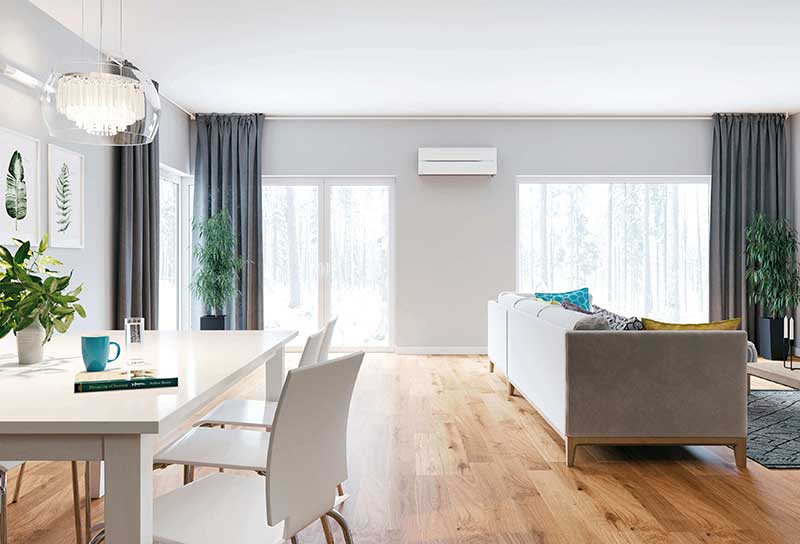 Feature rich and stylish… The new R32 units
Mitsubishi Electric has launched a new line-up of wall-mounted air conditioning units with a sophisticated, streamlined design and a comprehensive range of features to make stylish, energy efficient air conditioning available for countless small businesses.
The M Series MSZ-LN range is the first product in the company's UK line-up to utilise R32 refrigerant – which has a low global warming potential (GWP). Mitsubishi Electric will also launch further R32 air conditioning solutions throughout the coming year.
"This is a major product evolution which will show the market exactly how air conditioning using R32 can perform," explains Donald Daw, commercial director for the company. "Our engineers have put their heart and soul into developing a superb range of indoor units that offer better efficiencies and more features."
In March 2014, the European Parliament passed the 2014 EU F-Gas Regulation legislation with the key objective of reducing F-Gas emissions by 79% between 2015 and 2030. The overall intention is to cut the availability of hydrofluorocarbons (HFCs) with a high GWP.
The F-Gas Regulations will have a major impact on the air conditioning sector and any option for the next generation of refrigerant gas must be able to meet the demands of this stringent legislation in reducing the environmental impact of HFCs.
"R32 units have been available in Japan for over two years now and we have taken that knowledge and experience and refined it into this stylish and efficient offering, including our first ever red unit" adds Daw.
The MSZ-LN range offers a choice of four sizes from 2.5kW to 6.1kW, with four distinct indoor wall units which are available in Ruby Red, Onyx Black, Pearl White and Natural White colours. A matching, colour co-ordinated room controller is also available.
A built-in Wi-Fi interface enables full control and monitoring via the company's MELCloud App, and a sophisticated i-see Sensor in the unit automatically monitors room occupancy, position and body temperatures to deliver customised comfort.
To read the full article, taken from Mitsubishi Electric news please click here...
As one of their partners, Orbital Climate Solutions adhere to the strict criteria set out in Mitsubishi Electric's Partner Programme to ensure our customers receive a professional service upon which they can rely.For more information about the newly designed, energy efficient air conditioning units, using R23 refrigerant, please call 0800 2461615 or contact us, using this link.